Awards & Acknowledgements
These Delaware businesses thrive in tough neighborhoods
Coleman Bye III owns Mercantile Press, just around the corner from Precision Graphics in the Todds Lane neighborhood. The business, which prints books, magazines, and catalogs, has been there since 1949.
Bye, who was named Small Business Person of the Year in 2013 by the Delaware Small Business Administration, hasn't hired from the neighborhood because of the skills needed to operate some of his highly technical equipment. He wished some of the area schools, including nearby Howard High School of Technology, would train students in those skills so he would have a pool of local recruits.
"There are a lot of good kids in this area and, somehow, to get them some sort of training so I could hire them, would be great," he said. "I would be able to provide stable jobs or a career to a handful of people right here."
But hiring from the community is not the only way to give back. Businesses are also contributing in other ways. If Cranny sees something in the neighborhood that needs to be fixed, he'll do it without telling anyone. Bye volunteers with the Food Bank of Delaware and Franklin Fibre employees host a holiday food drive to provide Thanksgiving and Christmas meals to area families.
Read the entire article here.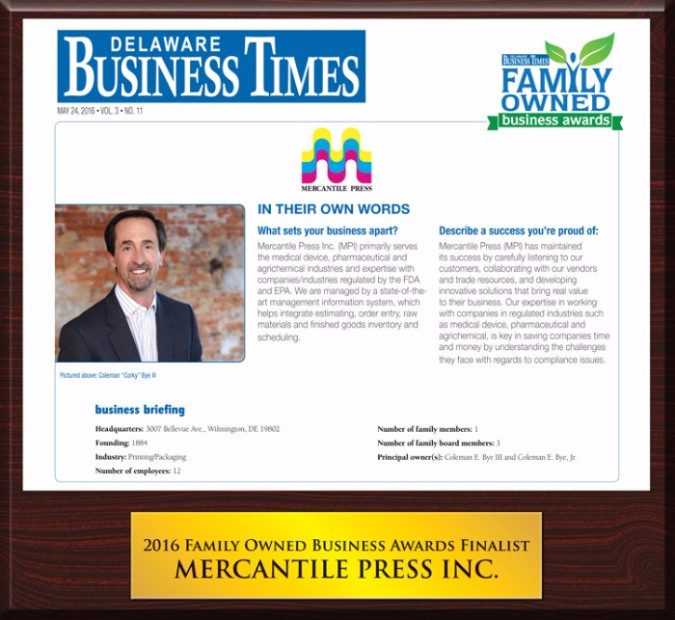 2013 Delaware State Small Business Person of the Year
Named the U.S. Small Business Association (SBA) 2013 Delaware State Small Business Person of the Year, Mercantile Press services the pharmaceutical, consumer care, medical device, dental and agricultural industries.
We have been meeting the needs and requirements of our customers since 1884 and have become experts in finding solutions to our customers' most difficult labeling or packaging challenges. To us, meeting your quality and delivery requirements are the most important elements of every order. Whether you are looking for composition and layout services, variable data, offset or roll items or extended content labels, all of our production is under one roof. Whether you require quick delivery or are just trying to come up with something new and innovative, talk to our staff. In our business, relationships count and experience matters.

Delaware's Oldest Printer 'Resets the Presses' on its Future
"Steadily building their Wilmington-based printing business—The Mercantile Press— over a period spanning three centuries, the Bye family weathered its share of business unpredictability.  But, by the 1960's, The Mercantile Press had proven it was "here to stay," running two shifts daily and providing its full stable of employees with living wages, full benefits, and steady work in a well-respected trade.  The firm had proven its mettle and reached its all-time growth peak just in time to face the industry-wrenching challenges of the coming decades."

Greenworks Environmental Recognition Award